---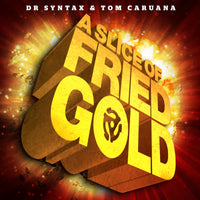 Format:
Release Date: 24th October 2012
Description: 
YEEEAH BOOYYY! British hip hop stalwarts and long-time friends Dr Syntax and Tom Caruana have teamed up to bring you a concept album based around dialogue snippets from the work of legendary TV and film director Edgar Wright (of Shaun Of The Dead, Hot Fuzz and Spaced fame).

After years of well-received releases, tours and collaborations (including songs with chart sensations Rizzle Kicks and Foreign Beggars), the newly-formed duo made the album after Wright himself got in touch with Caruana and gave him carte blanche to sample his work. The result is 14 tracks of quirky, funk-fuelled dopeness, featuring dazzling cameos from Leaf Dog (Four Owls/High Focus), Rebecca Stephens (formerly of The Pipettes), Don't Flop! rap battle legend Enlish and newcomer Clev Cleverley. All that, plus the Cornetto from the shop. How's that for a slice of fried gold?
Bandcamp
Tracklist: 
1. Universal Intro
2. Get Into It
3. Busy Doing Nothing
4. My House
5. Going Off (feat. Enlish)
6. Make Your Move (feat. Rebecca Stephens)
7. Meltdown
8. Out Of My Mind
9. Countryside Alliance (feat. Clev Cleverley & Leaf Dog)
10. Another Classic
11. Drudgery
12. Masks (feat. Rebecca Stephens)
13. Mary (skit)
14. Weather The Storm
15. Heard This One Before (feat. Clev Cleverley & Rebecca Stephens)
Credits:
Vocals/lyrics by Dr Syntax 
Beats & mixed by Tom Caruana 
Artwork by Crespo 

Guest raps by Leaf Dog, Enlish and Clev Cleverley 
Rebecca Stephens - additional vocals on Make Your Move, Masks & Heard This One Before 
Pete Cannon - cuts on Make Your Move, Another Classic & Heard This One Before 
Fidel Cutstro - cuts on Out Of My Mind
CD comes with MP3 digital download upon purchase