---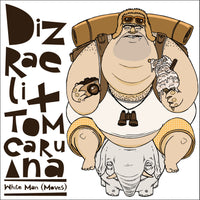 Format: CD in cardboard sleeve or MP3
Release Date: 2012
Description: 
Words by Dizraeli
In 2009 I took 4 months off work for a Big Trip, with Laura. 

We planned to travel from Chennai in southern India all the way back to England by land. For various reasons, from Delhi we ended up having to take a flight over Pakistan to Iran, where we continued our journey by bus and train, through Turkey, across Europe and eventually into St Pancras station with our heads clamouring with memories. As I do, I wrote a lot along the way, and waved my Zoom H4 field recorder around trying to capture as much of the vibe as possible. I came back with hours of sounds and a book full of rhymes.

These lyrics sat in my head for almost 3 years, me not knowing what to do with them, until the morning in December I woke up and realised I had to shape them into an album, and it had to be Tom Caruana on the boards… I called him, he said yer let's do it, and within a couple of weeks I was travelling up to his house in snow-strewn Yorkshire to re-conjure the textures of hot sand and camels. With his ridiculous beats and the lyrics and sound recordings I already had, we had almost everything recorded in the space of 3 days. 

I couldn't have asked for a better collaborator than Tom: aside from being one of the best beatmakers in hiphop, he's also been unendingly patient with my perfectionism and general weirdness. Nice one, Tom. You're a sicko in all the good ways. 

Here it is then: 

'White Man (Moves)'. 

Why this title? 

Being a white Western male abroad, you travel trailing centuries of history behind you. You are always White Man - you can't escape that. 

This album is partly an attempt to shine some honest light on myself as White Man, along with that long tail of history and the ugly little elephant-in-the-room I travel on. 

It's also partly a homage to the humanity and courage of the people we met in Iran, who lead their lives in the shadow of an oppressive regime but still remain so hospitable, warm and funny. I promised I would tell the world some of your story - here it is. 

And of course, White Man (Moves) is a scrapbook for the memories of good times and brilliant people met over the course of an adventure. With that in mind, I dedicate this album to all those people - this album is full of the sounds of your voices and your streets. 

Finally, I offer White Man (Moves) to Laura. I never remember to take pictures, but here's something to remember our trip by. 
Tracklist: 
1. Azim
2. What River Is This?
3. People Taking Pictures
4. Beautiful People
5. Lose Yourself
6. Fatima
7. Picking Through The Pebbles
8. Forwards
9. White Stones
10. The Journey Home
Credits:
All tracks by Dizraeli and Tom Caruana 
Tracks 4, 6, 9 and 10 feature Cate Ferris on vocals 
Tracks 2 and 10 feature DJ Downlow on cuts 
CD comes with digital download upon purchase 
Download link for the MP3 will be sent after checkout